Welcome to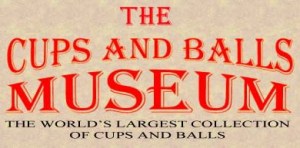 Featured in the Houston Museum of Natural Science exhibit -- Magic:The Science of Wonder.
Commemorative Cups available again. Please click here for more information.
This is the gateway. Please choose the version that fits your connection.

This web site is has many pictures of cups and balls sets. It is very graphics intensive.

Dial-up Gateway.



If you have a dial-up connection, which is slow, and you would like to be able to choose which large files you view by looking at smaller "thumbnail" pictures,
click here or on the icon above.

High Speed Gateway.



If you have a high-speed internet connection, such as DSL or Roadruner, and you would prefer to see the pictures without having to click on thumbnails,
click here or on the icon above.

In either case, you will be able to view all of the cups and balls sets.
Announcement -- Please Read Carefully
If you experience problems viewing these pages, specifically viewing the images on these pages, please check your firewall settings. Some firewalls, such as Zone Alarm, require that you add the web site to the "trusted" list.

If you are unsure of how to do this, send an e-mail to the curator of the cups and balls museum, and I will send step-by-step instructions.



Terms of Use


All pages and content on this web site are proprietary and are copyrighted by Bill Palmer. This is not a public resource. It is a private web site and is password protected. It is open only to magicians, cups and balls collectors and magic historians.

Bill Palmer prohibits all unauthorized links to the Cups and Balls Museum. Bill Palmer reserves the right to disable any links to the cups and balls museum web site. This also applies to unauthorized framing.

All pages on this site © Bill Palmer. All rights reserved.
For permission to republish contact Bill Palmer at the e-mail address below.



For more information, send e-mail to curator@cupsandballsmuseum.com
This website is now hosted on Bluehost.com.
We have found their service and support to be excellent.

Their features are the best we have seen, and their prices are extremely reasonable.

Click here to sign up with bluehost now.


The Cups and Balls Web Ring
Powered By Ringsurf